teyit.org is an independent fact-checking organization based in Turkey. At a time when the trust in media is at all-time low, our main aims are to prevent false information from spreading online, help media consumers develop their media literacy skills, and develop methods to promote critical thinking.
We've been publishing analyses on teyit.org in both Turkish and English languages on suspicious content especially in times of crisis since our launch on October 26, 2016. We also give fact-checking workshops and contribute to publications aiming at raising awareness about the importance of public access to factual information.
teyit.org is a signatory to the International Fact-Checking Network's Code of Principles and is one of the partners of First Draft News.
IFCN Code of PRINCIPLES SIGNATORY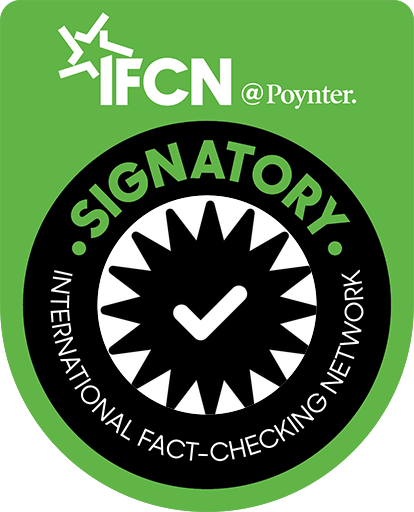 This badge confirms an organization was deemed compliant with the IFCN principles when subjected to the established vetting process and evaluated by external assessors. Through this process, an organization must exhibit a commitment to nonpartisanship and fairness, transparency of sources, transparency of funding and organization, transparency of methodology, and a commitment to open and honest corrections.
teyit.org is a non-profit organization with a focus on social impact. It operates under multiple institutional structures due to the lack of comprehensive social enterprise infrastructures in Turkey. Our activities in media are conducted by the Teyit Media Research Association and technology and training activities operated under Dubium Bilişim Danışmanlık ve Ticaret Ltd. Şti. on behalf of teyit.org.
AÇIK AÇIK SOCIAL ENTERPRISE
Social enterprises are structures whose main objective is to solve social and ecological problems and to engage in economic activities to solve these problems sustainably. We believe that social enterprises are the business model of today and the future, so we declare that by taking part in "Açık Açık Sosyal Girişim", we are a social enterprise in terms of our objective, values, financial structure, functioning, and social and/or ecological impact focus.
Click here to read Social Enterprise Statement.
FINANCIAL Resources
This part was last updated on 20 August 2019.
Teyit is financially supported by European Union and embassy funds granted to non-governmental organizations, public institutions and private enterprises as well as by personal contributions, public reliefs and by generating income through collaborations with several institutions in order to sustain their broadcast, develop their human resources and to continue offering procurement service. 
As a non-profit social enterprise, Teyit spends the budget for Teyit's growth and for deepening social impact. Earnings are by no means distributed to company partners.
2016
Public reliefs in 2016
Funds in 2016
2017
Funds in 2017
A support of €111,300.00 was provided by European Endowment for Democracy in consequence of the application titled "teyit.org – verification work group." During the work conducted from February 2017 to April 2018 the following expenses were covered: institutionalization expenses of Teyit, salaries and insurance expenses of four editors, legal and accounting expenses, fees of subscription to digital tools which facilitate verification processes, expenses of visual and multimedia design, design and printing expenses of the insight report titled "What do we question on internet?", consultancy expenses for developing business model and measuring social impact, travel expenses of two editors for International Journalism Festival and the expenses for hosting and maintenance of the website. 
2018
Personal Supports in 2018
Cooperations in 2018
Funds in 2018
2019
Personal Supports in 2019
In February 2018, Teyit launched a support campaign to switch to a structure which relies mostly on the support of its users. Thus, share of the funds in the budget would be decreased. The value attained with the monthly contributions made via Patreon platform corresponded to $2,852.00 in the first half of 2019. Expenses of Teyit's office in Ankara were covered by these personal supports. We extend our thanks to all supporters of Teyit.
Please visit destek.teyit.org if you want to be a contributor. Our active supporters are as follows;
Adem Aydil, Ahmet Çakan, Ahmet Yıldız, Ahmet Raşit YILMAZ, Ahmet Levent Tasel, Akın Rota, Ali Özcan, Ali KARABEY, Ali Burak Parım, Ali Diker, Alican Aktürk, Alper C., Anil Can Baykal, Anonymous, Aysen Ertur, Ayşegül Engür, Bağış Erten, Barış Bilgen, Başak Bostancıoğlu, Bekir Alper Paksoy, Berivan Elis, Bilgehan Bahçivan, Bulent Can Ulas, Burak Ersoy, Burak Direk, Burcu gunduz, Burkay Ozturk, Cabir Yavuz, caglar cakmak, cagtaa, Can Karalar, Can Kavanoz, Can Çitoğlu, Celil Bozkurt, Cembora Güngörmüş, Cenk Altı, Ceylan Özdem, Cinar Gercek, Çağrı Yalçın, Deniz Oguz, Deniz Irsıdar Uludağ, Derya Sel Bozkurt, Dincay Akcoren, Dr.K.Murat Ekşioğlu, Ege Ergenekon, Emin Okutan, Emre Kurt, Emre Koyuncu, Emre Toku, Engin Guven, Engin Ulusoy, engin polat, Eray Erdoğan, Eray Uysal, Erdal Karayazgan, Ertuğrul Ceylan, Evren Akal, Ezgi Yetim Arsava, Ezgi Guldal, Fatih Alp, Ferhan Ture, girisimci muhabbeti, gonca, GUZIN BEGUM ERDA, GÜLAY YÜCEL, hakan bilginer, Halit Kaya, Hamit Levent Evci, Hasan Zafer Elcik, Hatice ULAŞ, Hayrettiny Çelik, hüseyin dinçol, Irmak Alici, Itır Erhart, İbrahim Nail Acar, ibrahim sivrikaya, john doe, Kadir Kutlu Kaya, Gökçe Dinçyürek, Kaya Akan, Levent Başaran, Mark Stencel, Maytap, Mehmet akif erek, Melike Ceren İnan, Melike Olgu Okumus, Mert, Mert Torun, Merve Nur Okutan, Mesut Çiçek, Mustafa İncel, Mustafa tosmur, Mustafa Basaran, Mustafa Yaşar Soydaş, nihan gider, Oktay Kilic, Oray Egin, Orhan Somuncu, Orkut Murat Yılmaz, Osman Coskunoglu, Ozan Dizman, Özgün Dünyaoğulları, PELİN PERVİN ÇAVUŞ, Pelin Çiftci, Reha Özer, Renay Onur, S k, Sam Dubberley, Sami Can Tandoğdu, Selkan Kaya, Serhan Lokman, Serhat Bilyaz, Sinan Direk, Sunay Demircan, T Emre, Tamer Aktaş, Taner yavuz, Tolga YILDIRIM, Tolga İnam, Tuğçe Işıkdoğdu, Turgut Derman, Tutku Sönmez, Tülay Atila, Uğur Cevdet Aykaç, Volkan Ercan Varlı, Yavuz Arslan, yesatalim, Yusuf Ziya Uyanık, Zafer Ipekci, Zafer Gunduz, Zeynep Meydanoğlu, ZÜHTÜ KAYALI ve 1 anonymous contributor.
We thank all of our supporters.
Cooperations in 2019
Teyit became the third party fact-checking organization of Facebook after signing a contract with Facebook in May 2018. As part of this cooperation, Teyit flags the delusive news on Facebook and directs the users to the analyses published on its website while Facebook works on reducing access to such news.  
The income obtained through this cooperation in the first half of 2019 is $172,900.00. A large amount of this figure was used to meet the expenses of human resources. Besides, a larger office was hired for Teyit team in Ankara and expenses of its interior design were met. Lastly, internal training was provided to Teyit team, travel expenses of the activities abroad were covered and the design of a new website began by means of this income. 
Click for more information about the third party fact-checking program of Facebook.
Funds in 2019
Teyit got a support of ₺25,000.00 from Heinrich Böell Foundation with its application titled "Why don't we trust media?" Erosion of confidence in mainstream media in Turkey was examined within this study initiated in July 2019. The research was published as the fourth part of #teyitpedia series on Teyit's YouTube channel.
Another support of $53,590.00 was received from Large Grants Program of the U.S. embassy for the application titled "Factory: Innovation and design for fighting with misinformation." The design sprint program, which will follow the events held for Factory in 2018 will continue in September 2019 and take place in Eskişehir and İzmir.
As a result of the application titled "Reality Check on Climate Change", European Climate Foundation provided a support of $17,950.00. Within this scope, the study will take place between September 2019 and December 2019. Misinformation and falsifications regarding climate change in Turkey will be detected and a five-series documentary will be made.
Lastly, Teyit was granted a support of ₺49,610.00 by Press House Support of the European Union Media for Democracy / Democracy for Media Program upon its application titled "Strengthening and increasing the actors fighting against misinformation." The figure will be spent on behalf of Teyit by the Association of Journalists as per the rules of the program. In this regard, annual rent and contribution expenses of Teyit's office in Ankara and the participation of Teyit to International Journalism Festival in April 2020 and of Global Fact in June 2020 are covered.